U17s Win Laverty Shield Final
30th August 2023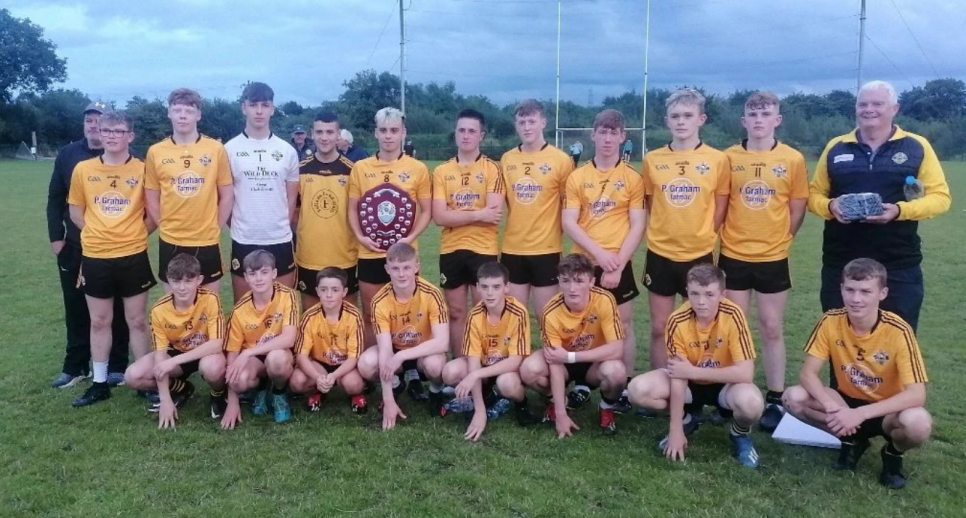 Laverty Shield Final
With a busy schedule of All County fixtures going on, the South West divisional board have found it difficult to get their own competitions complete but last week at Dunsilly they found a slot for their two U17 Cup competitions.
Both the Laverty Cup and Shield have been highly regarded competitions by teams in the South West with the winners of the Laverty Cup never far away when it comes to the All County Minor Championship.
On a sunny evening in Dunsilly Roger Casements eventually ran out comfortable winners against a determined St Comgalls team in the final of the Shield.
The first half was a tight affair with St Comgalls really putting it up to the travelling Casements team. Roaming full forward Ryan McKeever along with Odhran Doherty were involved in everything good that Portglenone did in the opening half.
Half time Casements 2-5 Antrim 1-3
The move of wing back Tom Duffin into the Casements forward line in the second half proved to be a masterstroke by the management as his direct running proved too hard to handle for the Antrim defence. Duffin ended the game with 2 goals with big midfielder Oisín Scullion adding another near the end to clinch the game for Casements.
Full time Casements 5-11 Antrim 2-8
Portglenone: 1 Tom Convery 2 Fergus McCormick 3 Conall Morgan 4 Conor Dunlop 5 Christie McDonnell 6 Oisín McAtamney 7 Tom Duffin 8 Ryan McAllister 9 Oisín Scullion 10 Frank McAleese 11 Odhran Doherty 12 Conor McCann 13 Conor McKeever 14 Ryan McKeever 15 Eoin McErlean.